Electric drive technology has seen an unprecedented leap in recent years, paving the way for more sustainable and efficient modes of transportation. Rotontek, an industry leader in advanced transportation solutions, is proud to introduce its latest innovation – the Compact 11kW Electric Drive Axle. This state-of-the-art device is designed to meet the dynamic needs of modern vehicles, offering a blend of power, efficiency, and durability.
The Compact 11kW Electric Drive Axle is Rotontek's answer to an increasing demand for more compact and efficient electric drives in the transportation industry. This groundbreaking product encapsulates years of research and design, ensuring optimal performance for a variety of vehicles. With its sleek design and robust build, it is tailored for both light and heavy-duty applications.
Specifications
| Feature | Specification |
| --- | --- |
| Power | 11kW |
| Voltage | 380V AC |
| Torque | 70Nm (Peak torque at 120Nm) |
| Efficiency | > 95% |
| Weight | 30kg |
| Cooling | Liquid-cooled |
| Drive Type | Direct Drive |
| Connectivity | CAN, Bluetooth |
| Protection | IP67 (Water and Dust Resistant) |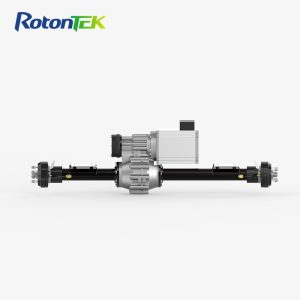 Manufacturing and Design
Rotontek places emphasis on not just performance but also on aesthetics and integration:
Compact Design: Its name isn't a misnomer! Designed to fit seamlessly into various vehicle architectures, the axle does not demand significant alterations to vehicle design.
Robust Build: Made with high-grade materials, this axle promises longevity and can withstand challenging terrains and conditions.
Innovative Cooling: The liquid-cooled system ensures that the axle operates within optimal temperature ranges, thus maintaining efficiency and performance.
Advantages and Features
Power and Efficiency: With a whopping 11kW of power, the drive axle delivers impressive performance without compromising on efficiency.
Connectivity: Advanced connectivity options such as CAN and Bluetooth allow for real-time monitoring and diagnostics.
Eco-friendly: Being electric, the axle contributes to reduced carbon emissions, supporting a cleaner environment.
Low Maintenance: The design and build quality ensure minimal maintenance, saving costs in the long run.
Adaptability: Suitable for various vehicle types including cars, vans, and small trucks.
Applications
Rotontek's Compact 11kW Electric Drive Axle can be seamlessly integrated into:
Electric Cars: For urban and inter-city drives.
E-Vans: Ideal for delivery and logistics.
Electric Buses: Perfect for public transport systems.
Custom Vehicles: Specialty vehicles that require a compact and efficient drive system.
With the Compact 11kW Electric Drive Axle, Rotontek continues to establish itself as a frontrunner in providing advanced transportation solutions. The product's power, efficiency, and adaptability make it an indispensable choice for manufacturers and vehicle owners alike. As the world steadily progresses towards cleaner and sustainable transportation, Rotontek's latest offering stands out as a beacon of innovation and excellence.